Things to do around Prizna
We do not give you just apartments to stay. We do it in a truly unique environment so you can experience the best while on a holiday with us. 
Discover Nearby Cities
Prizna is strategically very well located. Use your time wisely with some exciting day trips we put together for you.
Karlobag
Founded by the Romans in the 14th century, Karlobag is a cozy fisher's town with plenty of narrow streets, restaurants and fresh fruit markets. Also, it is the place where you will find grocery shops when staying in Prizna.
Senj
Visit Senj and discover the symbol of the town, the Nehaj Fortress, which goes back to the year 1558 when locals were fighting the Turks. Go in August and enjoy Croatia's oldest and largest summer carnival.
Novalja
Novalja is more than just party. The city goes back to 1st century BC when the Romans took possession - you can still find traces of their settlement as they left numerous archeological and cultural artifacts.
Zadar
Roman forums, 3km of city walls, archaeological museums, the unique sea organ, the greeting to the sun… the oldest Croatian city and UNESCO world heritage site offers a variety of stunning pieces.
Island Pag
Discover the island Pag – famous for its cheese (paski sir), lace and its cities Novalja and Pag – it is just a 10 min ferry ride away. Luckily, the ferry leaves straight from the harbour in Prizna every 30 minutes.
Gospić
Want to see where Nikola Tesla grew up? Say no more! Gospić is a town in the mountainous and sparsely populated region of Lika. Visit and check how the local population is living away from the sea.
Are you more into Nature?
Prizna itself is located in the middle of the Nature Park 'Velebit' - with 3 protected National Parks in its vicinity. Enjoy the magnificent nature to make the most of your stay.
Northern Velebit
Want to cool down from the heat? Apart from the numerous peaks with magnificent views of the Adriatic Sea and its islands, you will find a botanical reserve and the baby bear refuge 'Kuterevo' inside this national park.
Plitvice Lakes
As part of the UNESCO World Heritage, this national park is world famous for its lakes arranged in cascades and water, which constantly change color from azure to green. Definitely a must see and a perfect day trip from Prizna.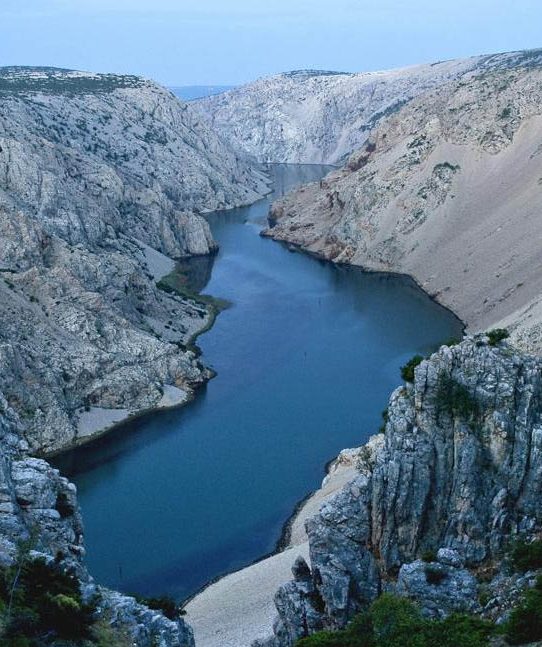 Paklenica
Containing of 2 canyons and 150km of hiking trails, Paklenica national park is the largest climbing site in Southern Europe. There are over 360 equipped routes of varying difficulty that allow a stunning view.
Adventures keep us Young
Looking for more? If you are enjoying active holidays, we also got you covered!
Visit the Bears at Kuterevo
The Kuterevo Bear sanctuary is a truly special place - located in the mountains, it provides shelter to orphaned brown bears. The sanctuary is run by volunteers and visits are free of charge, donations are welcomed.
Hike the Life on Mars Trail
Drive to Metajna on Island Pag and hike the most unique trail you will ever find - Life on Mars! There are 4 different options for each fitness level from 4-15km. You'll also pass hidden beaches that are only accessible by boat.
Snorkel at Fjord Zavratnica
Snorkel in one of the most beautiful fjords in the northern coastal area that was named a protected landscape in 1964. Here you can find a sunk wreck of the Wehrmacht at the bottom of the sea.
Plan your Unforgettable Experience in Prizna Today!
We can help you fit your stay and experience within your allotted budget.